I believe that the most challenging and certainly most underrated hunting must be the lowly unappreciated dove.
Really, when was the last time you heard someone say "man I can't wait for dove season"! But for pure fun, excitement and number of missed… er; I mean shooting opportunities, what compares to dove hunting?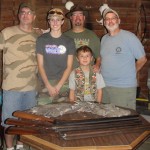 Dove, commonly believed to be stupid are drastically underrated in intelligence. Dove purposely distract us by sending decoys to fly far out of range, meanwhile other dove suddenly appear directly over our heads. Dove also have the ability to control our minds.  When the above mentioned dove magically appear one always starts yelling "there's some, Shoot em'!" completely forgetting he has a shotgun in his own hands.
Over Labor Day Weekend Bill, his daughter Mariah and our friends Sam and Vicki James joined my son Cullen and I for a dove hunt at a nearby neighbors place.
The action was fast, the shooting was constant and the birds were dropping… at least some did (To discuss the ratio of shots fired to birds recovered would miss the point of the article).
Can a father really describe seeing his seven year old son take his first bird? Cullen took a dove with the same twenty gauge H&R Topper I used to harvest my first bird (quail) when I was ten. Having your friends there to witness the event only made the memory more priceless.
Bill was sure proud of his seventeen year old daughter Mariah. Mariah was the Top scorer for the night with a total of eight birds. I followed closely with seven but my cataracts have been acting up and don't get me started on my medulla oblongata.
Sam also got some but mostly Sam and I just keep laughing at jokes other people don't get. We must have an overly sophisticated sense of humor.
Mariah is an interesting girl; she shares my passion for double guns. At a gun show a couple of years ago Mariah decided she had to have a double barreled shotgun. Mariah had $175.00 to spend. Now bear in mind that was $175.00 a fifteen year old girl earned working at the mall. Mariah didn't want shoes, a new outfit or more texting minutes, Mariah just had to have a Twelve Gauge, Double-Barreled, Shotgun. Yea I know what you're thinking, I didn't know any girls like that when I was young either, if I did I wouldn't be married to my old ball and…
Oh, uh… where was I? Yea… the gun show, so Mariah finds a Stoeger Double in good shape and the guy only wants $225.00 for it. Well I am kind of the deal guy so Mariah asks if I would try to talk the guy down. I wisely told Bill to send Mariah over to work the deal, sure enough one look into the pleading eyes of Mariah and that crusty old trader caved like a Kentucky coal mine. He didn't even try to counter her offer!
A few weeks later Bill and I watched Mariah go 2 for 3 on quail on her first hunt with the Stoeger.
You know I've always been suspicious of those hunting shows that show attractive young women hunting on trips I'll never be able to afford. In the back of my mind I see a Hollywood agent taking a group of aspiring models to the range, picking out the best shot and saying "how do you look in camo"? Well, Mariah could hold her own anywhere from the runway to sporting clays and probably drop a charging rhino while she's at it. (If any Hollywood agents are reading, I get a standard 15% finders fee on Mariah's first three season contract).
Bill Hunts with a beautiful browning pump action. Which begs the question, how can Bill look himself in the mirror knowing that his teenage daughter hunts with a manlier gun than he does and out-shoots him in the process?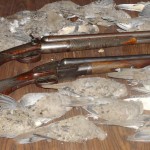 But I digress; I'm dove hunting with a couple of my treasures. A twenty-gauge double, American Gun Co. Knickerbocker circa 1920, and a Belgian, Damascus Barreled Hammer Gun certainly pre 1900 (black powder only). Some call em' wall hangers but I love these guns! I knocked down three dove with the Knickerbocker (coolest name in weaponry). I switched to the hammer gun and got four. The only real draw back (other than cleaning) with black powder is that you need someone to spot your bird. I mean BOOM, powder smoke and shreds of paper all over…cough, cough… and then… the bird is not there. "Did I get it"? "Yea he fell over by that fence post" or (more likely) "no you missed, he's gone." "Oh."
I admit I get a kick out of shooting black powder shotguns and these old hardware store guns can be found cheap. Sure shells are expensive ($17.00) but I can shoot a LOT of shells from my old Belgian gun before I make up the difference between the cost of a Holland & Holland or a Westley-Pritchards.
The next day we feasted on squab! Here's my recipe if you're interested.
You will need bacon, pickled jalapeno peppers and toothpicks.
De-bone dove breast and cut into two pieces.
Cut bacon strips in half.
Cook bacon until about half done and remove.
Cook dove breasts in bacon grease until half done and remove.
Place jalapeno slice on dove breast and wrap with bacon. Pin the bacon in place with toothpicks.
Place on charcoal grill and cook until done.
They are great appetizers and I guarantee you will not have any left over.
There is a down side to hunting dove. I took Cullen out to scout for deer, but now dove hunting is the greatest shooting sport in the world. Cullen has spent the past several evenings looking  for dove coming in. Consequently the deer scout goes something like this:
"Dad, there's some doves." Yea I see em.' "Dad, There's some doves." Yea, I see em,' now keep your voice down." "Dad, there's some doves." I see em,' we're scouting for deer so you need to be quiet. Okay?" "Okay"… Dad there's some doves"…
In spite of Cullen's incessant chatter, squirming and deep sighs of theatrical boredom I was actually able to spot the buck I'm going to kill (or more likely the buck that will frustrate and elude me this year).
Oh, and further proof of the superior intelligence of Dove? Several landed on the barbed wire fence just feet from where we were scouting. They just stared at us. Dove can actually tell when you are not carrying a shotgun!