Being a hunter and outdoorsman, I love good knives. I only wish I had the budget for a really great field knife. There are some sweet custom knives out there I see in the magazines that I would love to own someday. But one knife that I frequently see mentioned are those made by Mora of Sweden. Swedish steel seems to have a very strong following and their fans will tell you its some of the best steel out there. But the one differentiating thing about Mora is their affordability.
But how can a good knife be so cheap?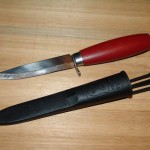 Mora has some great reviews, but I was still skeptical. That is until I saw Cody Lundin using one on Discovery's Dual Survivor show on an episode. OK, I'll bite. I'll order one and see how they are. Besides, they're cheap. If it isn't any good, I haven't wasted a lot of money on the thing.
So I ordered the Morakniv Classic 612. From what I could tell, Cody had the Classic #2, but I liked the finger guard on the 612, just for a little more safety. I read through all the reviews and knew what to expect.
Upon its arrival, I immediately checked the sharpness of the blade. Not bad. I could feel a little bit of roughness like it just needed some honing, but it went through a piece of paper OK. The first thing one notices is the difference in the bevel on the blade, it's much wider than the short bevels of most American knives, more on this in a moment. The next thing I noticed was how good the knife felt in my hand. The handle was perfect for me. It has a great feel. The only thing I was initially disappointed in is the sheath. They aren't giving away anything there and probably why their knives are so inexpensive, there's nothing in that sheath. It's made of some very thin plastic. The other noticeable thing is that the top of the knife is very rough and unfinished. Most people clean that up some, from what I've read.
The first thing I used the knife on was the pheasant and quail from my last hunting trip. I used it to clean the birds when I got home. It did a good job, but cutting through the wing bones seemed to rough the edge up a bit more. The shape of the knife blade is perfect for cleaning up small game. I don't think it would do well on large game like deer, as the blade feels a little light for that kind of work. But I could be wrong there, we'll have to wait and see. If you do your own butchering, it might do well for deboning. Maybe. I'll need to ask my buddy that does his own butchering.
After I finished with the birds, I took a stone to the blade. This is where that bevel really comes in handy. This was one of the easiest knives to sharpen. Since the bevel is so wide, it easily lays across the stone, making it a breeze to sharpen. And it really takes an edge. After a few passes on the stone, it went through a piece of paper like butter. Easy sharpening is a big plus for me there.
So that's the first impression. There's some good things about it. It takes a great edge and its very affordable. The sheath is flimsy and the knife blade feels a little light for any type of heavy duty field use, but I really haven't put it through its paces there yet. I'll post some updates as I use this more. But really, for the price, less than $20 shipped, not sure you can really go wrong with this.