One of my favorite whiskies is Evan Williams Single Barrel. It's a great bargain and a good bourbon. So, only having tried the EW green label in the past, I thought I might stack up the single barrel against some of the other EW labels. So, here we go…
Evan Williams Single Barrel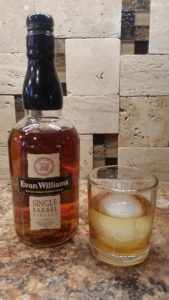 86 proof, 7-8 years old
Aroma: smoky and woodsy
Taste: Single Barrel is smooth and lightly sweet with a hint of vanilla. a spicy note from the high rye content. It has a nice mouth feel, especially with an ice cube or a bit of water.
This is one of my favorite sipping whiskeys and can be found for under $30 if you look for it. I see it any where from $26-$30 in my area. As I've noted before, I like a high rye bourbon and EW Single Barrel doesn't disappoint. Just the right amount of a peppery spice note keeps it interesting. It make a fabulous Manhattan.
Evan Williams Black Label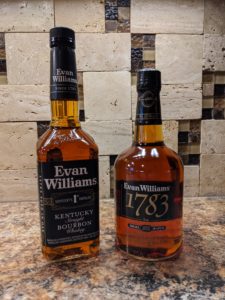 Aroma: Immediately you get the alcohol in your nose
First sip – neat: It's definitely EW, the rye spicy note is there, a bit of caramel and vanilla. somewhat hotter than single barrel, but that's to be expected from an 86 proof, probably 4-5 year old whiskey that only costs $12, I wasn't expecting it to be Pappy.
2nd sip: Added a single small ice cube that sat for a few minutes
The aroma is still the same, but the taste is a tiny bit more mellow, if sipping this one, it's definitely the way to go. I'd be more inclined to use this for cocktails though. Adding a couple more cubes to cool it down, smoothed it out even more, but there is still a bit of a bite at the end.
It makes a passable Manhattan, if in a pinch, but the hotness comes through in a big way. I expected the vermouth to tone it down a bit, but it really doesn't.
Evan Williams 1783 Small Batch
86 proof, all EW says is that it's "extra aged", whatever that means, and claims it's pulled from less than 200 barrels
Aroma: pleasant aroma, kind of a sweet woodsy smell
First sip, neat: Considerably smoother than the black label, but still a bit hotter than the Single Barrel. Nice spice notes.
2nd sip, single ice cube: Interesting that it tastes hotter with an ice cube than without.
3rd sip, more ice: smoothed it out a bit, vanilla pops out now.
Here's my thoughts on 1783. It doesn't seem to be a that much of a departure from the Black Label for a doubling in price. If I'm going to spend $24 (what I found it for) on 1783, I'd rather spend a couple more bucks and get the Single Barrel, it's a much more enjoyable bourbon.
I just didn't enjoy it in a Manhattan. It was off tasting for some reason.
The Verdict
And here's what I think overall. Hands down, I'll spend the money on Single Barrel, if I'm wanting a sipping whiskey. Nether of the other two were horrible, but there's better whiskeys at the 1783 price point. But, if you're making whiskey cocktails, the Black Label is a definite bargain.
Heaven Hill Distillery, one of my favorite distilleries, makes Evan Williams whiskeys. They also make Elijah Craig, which is another tremendous sub $30 whiskey.