I was able to get out for the final weekend of pheasant and quail season. I was invited along by an old friend from high school who I hadn't seen in a while, nor had I ever hunted with before. He took us to some family land down in south central Kansas. And like what we had seen back in November on opening weekend, the birds were a bit few and far between.
But as the saying goes, it's better to be out hunting than not. And we still had a great time. I came home with one pheasant and a quail. Two others of the group took 4 quail. Again, not a great hall, but typical for this season (due to the heat and drought of last summer). I hoping we don't have a repeat of the heat again, or next season could be even worse.
I've also found my favorite way to enjoy quail and pheasant, Pheasant (and quail) Teriyaki. I got the idea from another hunting buddy who did something similar with Goose. Here's the basic recipe, I don't measure much, but it's pretty simple.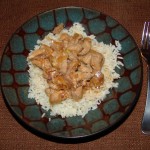 I cut up the quail and pheasant in bite size pieces and marinated in teriyaki sauce for a couple of hours. Chop up some onion and garlic. I probably used a small onion and 2 cloves of garlic. Saute the onion in oil to soften, don't brown it. Once the onion is soften up a bit, toss in the garlic and game with all the teriyaki sauce. Saute for a few minutes until the meat is almost done. I had about 1/2 cup of chicken broth left over from the rice, so I tossed that in with a few more dashes of teriyaki. Simmer until meat is fully cooked and liquid is reduced some. Server over rice or noodles.
Yumm!
I'm grateful for good friends and good food. Thanks Alan for taking us out for one last chance to get some game.
Keep your powder dry.