Since I'm due to leave in a couple of days for the beginning deer season, felt like I'd write a short article on the guns I use for deer hunting. I'm not a very experienced deer hunter, this is only my third season out. I did go out with a few friends several years back, but don't really count it since I was borrowing a rifle and didn't even take a shot.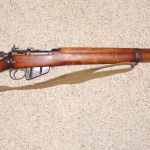 One of the things I like about the group of guys I hunt with is that they like and enjoy shooting historic firearms. Most of them hunt traditional black powder or cowboy era rifles, but they also collect antique guns. Keith got me hooked on British firearms, so 3 years ago I picked up an old WWII era Enfield (303 British) made by Savage for the lend lease program during the war.
I shot my first deer with it 3 seasons ago during the winter rifle season. It was a doe, but I'm more of a meat hunter anyway. I scared a group of does out of some brush walking back to my vehicle for lunch and one of stopped and gave me a 30 yard side shot. Season over.
It's a great gun to shoot, a little heavy, but there's no kick to it and it holds a great pattern at 100 yards. I'd love to find a place to do some 200+ yard shots to see how I do, but haven't found a place to do that yet.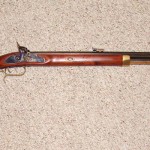 I recently picked up an Ardesa Spain, Hawken Woodsman in 50 caliber for an amazing price (too good to pass up). I've been shooting it steady for the past couple of months and am taking it out for muzzleloading season this year. I can hold a 6 inch group at 100 yards with it fairly consistently. I was never real taken with the Hawken style rifle until I picked this on up. It's shorter than the traditional Hawken style, so it swings well and has a good feel to it.
I plan to make some changes to it after the season when I have some more time, didn't want to try to get that done before the season. I'm going to put more traditional sites on it, let the brass tarnish a bit and refinish the stock to look original. But I'll do that after the season is over.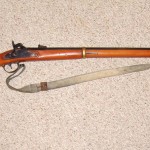 My last rifle is a Civil War era musket reproduction that I picked up last summer. I really wanted to use this rifle, but I've had difficulty getting it sited in at 100 yards. I like the looks of the muskets of that era. This one is closer to a Springfield rather than the Enfield. But it's still fun to shoot. It's in 58 caliber.
As you can see, I don't really have any of the modern rifles that most use when hunting. I'm more drawn to historic firearms. There's just something about shooting a gun that has some history behind it. I have it as a goal to someday have all my hunting rifles be British firearms. I really love the British military rifles and would love to add a Baker flintlock, an Enfield musket and a Martini Henry to my collection. Someday. Hopefully.
So those are my tools. I'm hoping Keith will give a write up on some of his. He's a lot more knowledgeable about the history of some of these than I am and he has some great firearms and stories about them.
So what are some of you taking out into the field? Tell us about them.