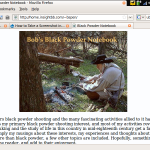 One of the things I want to do with this blog in the new year is add reviews of other hunting related web sites. Well, it's the new year, so here's our first review.
I was turned on to this site by my hunting buddy and co-blogger, Keith. The name of the site is Black Powder Notebook and it chronicles the adventures of Bob Spencer as he sets out to hunt and camp as our forefathers did as this country was being founded. He strives to re-enact exactly as a late 1700's homesteader or pioneer would have hunted. He has logged many of his treks through the years and it's very entertaining reading.
He seems to favor squirrel hunting (something I've never done but am curious after reading his site) .and he begins his first article reminiscing about how he came to be at that moment while hunting squirrels. He talks about how he got started in the black powder world his love of flintlocks. What I like is how he's out to just do just more than hunt, but to experience it from a different viewpoint. I like these quotes (from various articles):
"As each new aspect of the subject opened to me, and I acquired new skills associated with it, I began to have a better understanding of our ancestors. It is impossible to know what they and their life were really like, but muzzle loading has opened a small window into the past for me, and I thoroughly enjoy the view."
"Sitting there under that walnut tree, I realized with surety that black powder had been for me a siren song, leading me inexorably onward to more wonderful experiences. Because of it, I have become a better, more thoughtful hunter, a more involved and knowledgeable citizen, a happier and more satisfied person."
"I truly do enjoy hunting them more than killing them, and I'll miss all those early mornings, watching the woods come alive."
"The center seam elk skin moccasins made ala Mark Baker may be the best thing I've ever made. They are, I suspect, the real secret to my enjoyment of this season, because there's something elemental about traipsing through the woods and streams with nothing between you and the good earth but a soft layer of elk hide. Contact…I can't describe it better."
One of my favorite stories is Squirrel Stew, a story about an overnight trek where he describes the entire trip. It sounds so peaceful and relaxing, enough so that I envy him. I would really love to experience the outdoors in that way.
Along with his hunting stories are some black powder related articles on loads, shooting, fire making, tomahawk throwing and casting round balls over a camp fire (which is another thing I've been wanting to try my hand at).
This is a great site to get in the mind of a hunter and outdoorsman. It's refreshing to read about someone who enjoys being out in nature more than just bagging a trophy buck. It's a feeling we attempt to reach at our deer camps as well, but I think Bob has us beat, by a really long shot. Even if you're not into black powder hunting or shooting, this site is a definite must read.