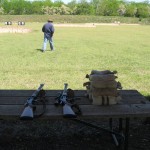 Finally had a chance to get the Marlins to the range last weekend. It was my first attempt at sighting in a scoped rifle. We didn't do to bad. The Good Wife's shoulder started bothering her after a while so we stopped after we finished up at 50 yards. I guess I need to watch how she's holding it in her shoulder.
We still have some work to do yet, we were pretty close at 50 yards. Still needed to get the windage in before moving out to 100 with the scoped rifle. I have some adjusting to do with the rear site on the other one, didn't have the time out there.
The open sight rifle is shooting to the right. So I need to adjust the rear sight some to compensate. I was shooting Federal and Remington rounds through it. The scoped rifle started out to the right and low also. I don't have much experience shooting a scoped rifle, so it was all new. Can't say I disliked it. We only shot the Federal ammo in it this time.
Below are the results: