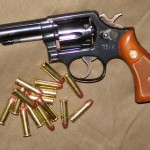 If you've read this blog for any length of time, you know that besides being avid hunters, we also collect firearms. Or wish we could collect firearms. Or wish we had the extra money to collect guns. But you get the point.
I've always been a revolver guy and I've been looking to pick up an S&W Model 60 in .357. In the course of that search, I managed to aquire an S&W Military and Police Model 10 in .38 Special. It happened to be my late father in law's and we believe in may have been his first service gun or at least one of his first. My mother in law still had it with the original box, papers and the receipt when he bought it. He paid $125 for it in 1982.
It's a pretty sweet pistol. There's just a bit of holster wear, but the trigger still has a nice feel to it. It's a bit big for conceal carry, which is why I'm looking at a model 60. But it should handle the 38 +P rounds (from what I've read) since it's the k frame. I'm just wondering about its age. It's just a bit heavy to stick in the small of my back, it'd probably drag my pants down. I'm looking into a holster for that though. He had a number engraved in the side of it, no one is sure what it means.
I've been itching to get it out to the range and put a few rounds through it, but haven't had the opportunity to get out yet. Hopefully that will change in the next couple of weeks as I'm planning on joining the Chisholm Trail Gun Club here. I'll post back here how it performs just as soon as I fling some lead through it.
Anyway, happy shooting and keep your powder dry.
.