Since getting into black powder a few years back, I've often looked with envy on many of the custom built rifles and muskets of the other shooters and the club. "Some day," I'd say, "When I have the money."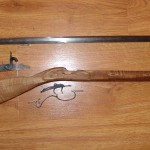 I also thought it would be cool to actually build my own, but that seemed even more remote than buying a custom rifle. Well, eventually I was able to acquire a Lyman Plains Rifle that hadn't really been started and I got it for a REALLY good price.
Yeah, I'm crazy. But it's something I've wanted to do for a few years. Luckily, I know a master gun builder. He's built dozens of rifles, muskets and pistols over nearly 50 years. It's also who I bought the kit from. Keith's father has built some beautiful long guns over the years, so how could I refuse his offer of assistance on the build?
The beginnings of the build have been him showing me the various parts, the things we should change from the kit as well as the things we have to fix from the kit. We discussed some styles and finishes and came up with a plan. I think it's going to be a great Hawken styled rifle when we (erm, Wes) get done with with it. I'm not sure exactly how long it will take, my goal is to have it completed and sighted in before September's muzzleloading deer season. I'm going to chronicle the build here, if anything to keep a record of the progress but also to showcase Wes' talent.
So to start, I thank Wes for taking me along on this journey and for sharing a bit of his knowledge with me.
Keep your powder dry.