The Kansas fall muzzleloading season kicked off this week. We've had deer sightings, but so far, nothing on the ground.
Keith is on the prowl for a buck he scouted in early September, but so far has only had a couple of does wander by his stand.
I finally was able to get out Wednesday evening,. There is plenty of sign around so I'm fairly certain I'll see deer come in to feed on the corn still standing on the field I'm watching.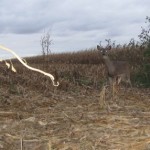 The wind is near gale force, so its noisy. Around 7:30, a spike buck wanders out of the corn about 10 feet from me. I never heard him coming. For the next several minutes, he just stands there and stares at me. I was able to take a few photos of him, he just would not spook.
I told him to "bugger off" a couple of times, "come back when you're bigger." But he wouldn't. I just couldn't bring myself to shoot him, he was too small. Not enough meat on him. Besides, I couldn't show up with his tiny rack next to the brutes Keith has shot.
I set back and watched him feed in front of me, hoping that he would draw others in. he wandered about a 100 yards out. About the time the sun set, I could see a few other deer feeding around him. It was too dark at that point to determine what they were, but I plan on moving my stand  bit closer to that end. I'm looking forward to the next day as I drive off in the dark.
So here it is Thursday, and I'm writing  blog post rather than hunting. Why, you ask? It's pouring out, has been since the early morning. Black powder and rain don't mix very well. But its supposed to end and be clear tomorrow, I'll be back out then.