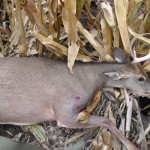 The Kansas Muzzleloading season has come and gone again. This year was slightly better than last year's hunt. I did shoot a dear this, but I didn't find it until the next morning. So, still no venison in the freezer.
I made a really stupid green horn mistake and didn't follow the trail to its end. I happened to see another buck run out of the corn and thought it was my the one I had shot. Same size, running the same direction mine was. I just assumed it was mine. I followed the running deer and searched for an hour for that trail. We finally gave up in the dark. The next morning, I backtracked and came across the deer.
So yes, I'm extremely disappointed. No meat. That's the main reason I go out. It seemed like such a waste.
On the plus side, I did make my shot. And it was a good shot I must say.
I'm taking my daughter out in December for her first deer hunt. I will probably pick up a game tag when I go along with her. Looking forward to shooting the Marlins.
Hopefully, Keith will have better luck as he finishes out the season this weekend.