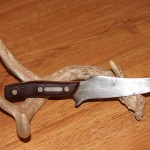 As you may not from previous posts, I love vintage knives, of all kinds. My father picked up a Schrade Old Timer 150T "Deerslayer" the other day at an auction. It's definitely seen some use, and misuse as well. The sheath is pretty rough and looks like something has been chewing on it. The knife itself is in decent shape, but the blade does have some discoloring. But it has a great edge to it.
I thought it was a rather strange shape for the blade as the top 3/4 inch of the blade has an edge much like current tactical or fighting knives do. Doing some research, that isn't how these knives were made. So that has been added. Most likely, the tip was broken and that was the fix decided upon.
I'm wondering how this might make for a hunting/skinning knife? That tip mod might come in handy when field dressing a deer. It might. Or it just might get in the way. Guess we'll have to wait and see. The knife has a good feel and a nice heft. It's certainly sturdy enough to handle dressing a deer. I like the finger guard on the bottom and the thumb placement indention on the top of blade. The only concern there is the thumb indention is serrated, so that could be bothersome with long use.
I would love to know the story behind this knife, who used it and what for. That's the real interesting part of collecting old knives and guns, the history behind it and the owner.