I went scouting last weekend here for when I take my daughter out next month deer hunting. I was looking for this guy (picture on the right).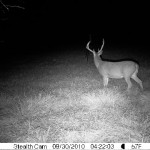 We think we spotted him in the neighboring field when we left. He looks nice. We also saw a couple of smaller bucks and a couple of does and lots of sign. This is my daughter's first deer hunting trip. Hopefully she'll do better than I did back in September. It would be awesome if she can get a shot off at that big boy.
Keith and the crew are getting ready to head out for pheasant opening day. I'm going to miss this year, I have a wedding to go to. An old friend of mine is getting married. And of course, all reports say this is likely to be one of the best years for pheasant in a long time. Of course if is. I'm thinking about NOT buying my buddy a wedding present. Good luck to the crew and all the hunters hitting the fields this weekend. May your shots be true.
And I thought I'd also give an update on Sgt. Blank. He's finally back in the States. He made it to Bethesda and is in the Naval hospital there. He's still far from being out of the woods yet, so keep him in your prayers. He's going through lots of surgeries still. And keep his family in your prayers and thoughts also. There's a lot on their shoulders.
So keep your powder dry and for those going out this weekend, drop by and give us an update when you get back.